Pacing Charles Minlend a smart move by team
It was a bit of a dud of a debut for Charles Minlend and that is a smart move for Louisville basketball.
It was a nice performance for Louisville basketball in a win over Wake Forest on Wednesday night. But something seemed missing on what fans excited to be an exciting game as they would get to see a key newcomer in action for the first time all season.
Just before Wednesday's game, San Francisco graduate transfer Charles Minlend was announced as being available for the first time all season. The springy 6'4″ guard/forward is a big boost to the overall athleticism and a much needed veteran for the team.
Minlend's grand entrance in to the lineup will have to wait for now despite being listed as available as he only logged one minute of playing time at the end of the game.
"I'd be lying if I said he was ready," Louisville head coach Chris Mack said.
Mack went on to speak about his experiences with ACL injuries he suffered in his time as a college basketball player. He discussed the mental and physical impact such kinds of knee injuries can have on a player.
"He's going to sink a little bit before he swims," Mack explained.
Seemingly, the head coach is in no hurry to throw Minlend into the fire as he will have to prove to Mack that he is ready to take on a healthy dose of minutes over the course of a game despite physical clearance by doctors. While fans may be disappointed by this development, it is a smart move by Mack.
Minlend will be better in the long run because he was held back.
It might sound weird to say it is a good thing to hold a player back who has been fully cleared by doctors to participate in games. But the mental aspect is just important as the physical.
Coming off of a knee procedure, Minlend has to catch up to the physical level that other players have had a chance to get to for two months in the span of a much shorter timeline.
He also has to trust his knee is ready to hold up whenever he lands, jumps, or makes a sharp cut. The mental aspect is so important for that reasoning. And Chris Mack seems to recognize how Minlend may be feeling.
It is fair to expect that he will slowly gain more and more playing time. But – for now – fans must trust the curve that Minlend has to overcome to be the best player he can possibly be for Louisville.
Soon, the full strength of Charles Minlend will be unleashed. Just stay patient.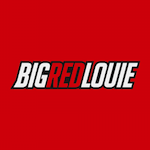 Want your voice heard? Join the Big Red Louie team!
Write for us!